If you are my husband someone who needs to buy a Christmas present for a keen gardener, then read on for my suggestions…
This beautiful willow basket is hand-made in Norfolk by a near neighbour of mine, Peter Dibble. He even grows and cuts the willow himself. I would use it to collect apples, vegetables or cut flowers. Or it could be a handy tool trug.
In deepest winter, reading about gardening is sometimes the closest you can get to actual gardening. This book is about the development of Monty's garden at Longmeadow, which will be familiar to any fans of BBC2's Gardener's World. It's also a lovely-looking book, with glossy photos and a pleasing matte feel to the dust jacket.
Secateurs are the single most useful tool in the garden. A brightly coloured pair will be easy to spot in a border or tool bag. As with many things, you get what you pay for. These come in different sizes, have guarantees and can be repaired, sharpened, etc. I'd love a pair of these but I also like my current pair by Spear and Jackson (£10). They fit my small hands, lock with clever clip at the end of the handles and sharpen easily.
This would be a very useful gift for a keen veg grower or someone who likes to grow annuals. It will keep seed packets nicely organised by sowing season and in good condition. It's attractive enough to be kept on a kitchen windowsill or shelf, or would add a bit of style to your shed.

A posh pair of leather pruning gloves would make anyone who grows roses or thorny fruits very happy. These are RHS endorsed and have lots of positive online reviews.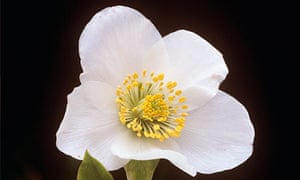 This is a dainty woodland plant that carries its white flowers from late winter to early spring. You'll find them ready gift-wrapped in most garden centres now. These plants have usually been forced (kept under glass) so they will flower in time for Christmas or New Year. Keep your Christmas Rose as a house plant until it finishes flowering in early spring. Then plant it outside in a sheltered spot, in rich soil and dappled shade.
This outdoor shrub has large clusters of pale pink crepe-paper flowers that fade to white as they age. It flowers from from February to April. It's slow growing, so can be grown in an attractive pot filled with ericaceous (acidic) compost. All rhododendrons need acid soil to thrive. It holds an RHS Award of Garden Merit, which I always take to be a good sign of reliability.
My kids and I highly recommend this book, which is gloriously illustrated by Mark Hearld. As well as beautiful illustrations that I'd happily hang on my walls, it's full of wonderful poems and facts about British flora and fauna. It's a book we go back to whenever the season changes. A fun and easy way for kids to start growing their own plants indoors. With this kit, they can grow cress, sunflower and coleus seeds, and then reuse the greenhouse to grow something different next time. It comes with everything you need to start growing and an activity sheet.
I hope this list has helped you with my present your Christmas shopping! 😉 x