This is the time of year when trees shine. Flowers are fading, even the late blooming asters and roses will shortly be over. But the trees will soon be putting on a glorious show.
Street trees are covered with dew drops and spangly spider webs in the early morning light as we walk to school. Beware the fat drips as you walk under the heavy canopies of the horse chestnuts! Berries and nuts are colouring up in rich autumn hues of deep yellow, burnt orange, fiery reds, blackish purple, and chocolatey brown. As the leaves start to lose their chlorophyll that has kept them green over spring and summer, they turn the most dazzling autumn shades. Once the leaves fall, the variations and texture of all the different kinds of tree bark will provide new interest over winter.
The best trees will add something special to a garden at all times of year. Every garden should have at least one tree, if not more. Even the smallest garden can accommodate a tree. And there are a plethora of varieties to choose from. These are some of my favourite trees for a small garden:
Crab apple (Malus)
If you are going to plant just one tree in your garden, I'd make it a crab apple. Not only are these beautiful trees with year-round interest, they're also great for wildlife, and will provide a pollinating partner for all apple varieties. If you have an apple tree that sets few fruits, plant a crab apple in your garden. Apples require cross pollination from another tree that is flowering simultaneously to set fruit.
We planted Malus x robusta 'Red Sentinel', pictured above, in our first year here. It's growing into a lovely lollipop shape, and every winter I enjoy seeing it's fat, rosey-red crabs when I look out of our kitchen window. In late spring, it has pretty, pink-tinged, white flowers, that are followed by masses of large, glossy, round, fruit that slowly colour up over autumn, and remain until late winter, when the blackbirds finally pick them off. The bright green leaves turn shades of yellow and gold before falling in late October-November. This is a great variety that has an RHS Award of Garden Merit (AGM).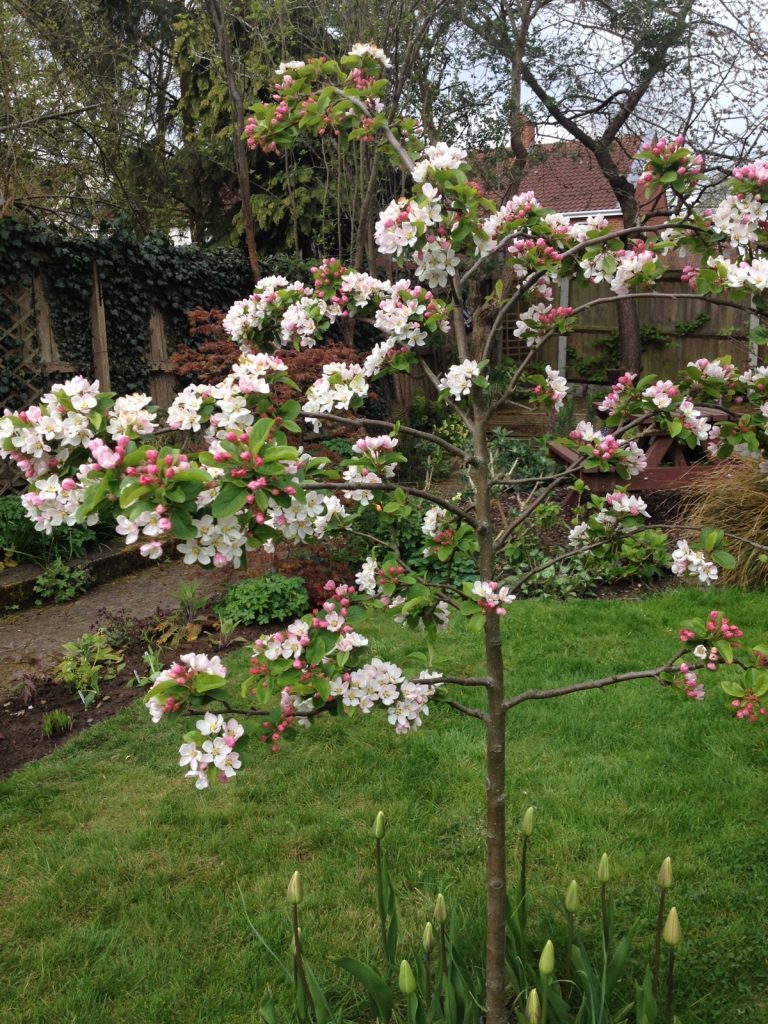 Hawthorn (Crataegus)
The common, native hawthorn, Crataegus monogyna, pictured below, is one of my favourite trees in our garden. The second photo is of a gorgeous hawthorn tree in my son's school playground. As well as being absolutely loaded with pretty white blossom in spring, common hawthorns also have delicately-lobed, mid-green foliage, a bushy habit, and red haws in autumn. Its dense thorny branches are a favourite with garden birds such as tits and finches as they offer safe cover from predators. Place a feeding station near it, and you'll enjoy seeing the birds flit back and forth with seeds, as they feed their chicks in early summer.
Crataegus laevigata 'Paul's Scarlet' (AGM) carries a profusion of double, dark pink flowers in late spring. It's an ideal tree for almost all conditions, tough enough to stand exposed sites, city pollution and even costal gardens, and requires little or no pruning. It tolerates all soils, except those that are water-logged. It should reach a height and spread of about 5 x 4 metres in 20 years.
Acer
Acers (maples) are well known for their stunning autumn leaf colours, and there are many varieties to choose from. The Norway maples that I inherited in my garden are far too large for an average urban garden, making much better street trees, and we will probably need to remove them in the next few years. However, Acer griseum (AGM) is ideal for a small garden. Its highly-touchable, cinnamon-coloured, peeling bark, gives it the common name, Paper Bark Maple. Delicate, thin layers of peeling bark stay attached to the trunk, creating year-round but especially winter interest. The foliage is a bold green, becoming a firework display of pinks to bright red, before falling in autumn. It's a rounded, slow-growing tree that does well in most well-drained soils, but avoid very exposed positions. It should achieve a height and spread of 5 x 4 metres in 20 years.
Acer palmatum 'Marlo' is a Japanese maple that is more of a shrub than tree. It has deeply lobed, green leaves with bright salmon-pink margins that emerge each spring. As the summer progresses, the leaf margins turn a creamy colour, before reverting back to pink again as autumn approaches. It makes an atttractive compact, deciduous shrub, with an eventual height and spread of about 1.5 metres, and requires little or no pruning. Plant it in dappled shade in a sheltered spot, and avoid full sun, windy or very wet sites. It will also grow well in a container.
Rowan (Sorbus)
Rowans, also known as mountain ash, are fantastic garden trees. Their pinnate leaves create light, dappled shade, without blocking views or taking too much light. There are varieties with pink, white, red or yellow berries that are held in tight clusters. Birds do like the berries, which is another good reason to plant one, but they're not top of their winter food list, so the fruit often remains on the tree until late winter or early spring.
It's worth knowing that the flowers, which appear in late spring, are pollinated by flies, and so do not have the most pleasant fragrance. Don't plant one near a window or door. But it's well worth growing one further away from the house, as they are beautiful in every season. Sorbus trees thrive in most well-drained soils, and require little or no pruning. The tree pictured below we planted in our front garden. It has lovely orangey-red berries and dark stems, but sadly I can't remember the variety. It may just be the native Sorbus aucuparia.
Sorbus 'Joseph Rock' (AGM) has amber yellow, late summer berries. The leaves are a light, mid-green, and turn vibrant shades of red, orange, copper, purple and scarlet in autumn, which sets off the yellow berries terrifically. Clusters of creamy white flowers adorn the branches in May-June, and attract plenty of insects, especially bees. It's an upright tree, neat in form, that should grow to about 6 x 4 metres in 20 years.
I also like Sorbus commixta 'Emberley' (AGM), the scarlet rowan, for its spectacular autumn colour. Its long, tapered, glossy green, pinnate leaves appear in spring followed by small white flowers in late spring. In autumn, it is covered in clusters of bright red fruit and scarlet foliage, deepening to ruby red before falling. It's more upright in habit that the common rowan, and forms a slender, branching, conical tree.
These are my favourites, and there are too many other beautiful small trees to list them all here. There is an idea tree for any garden, even a tiny one! So no excuses, if you haven't got one already, go and plant one this month.
See also:
Betula Albo-sinensis (Chinese birch, white birch) with peeling bark that is mostly cream with orange, brown and pink variations throughout. It will grow to a height and spread of approx 8 x 4 metres in 20 years.
Prunus serrula (paperbark cherry, Tibetan cherry) has smooth, mahogany bark that peels in translucent cinnamon and honey coloured sheets to reveal a fresh new hue of bronze-red gloss beneath. It will grow to a height and spread of 5 x 4 metres in 20 years. (AGM)
Prunus amanogawa (Japanese flowering cherry, flagpole cherry) perfect for small spaces as it grows to a height and spread of just 6 x 2 metres in 20 years. In April, the upright branches are smothered in large, semi-double, pale pink flowers. (AGM)