I have been lucky to revisit this garden a few times since it was planted up. It's been wonderful to work with the enthusiastic couple who own this garden, and to share in their love of gardening and wildlife. I am thrilled with how the space is developing, and to see the design mature as the plants settle in and thrive.
The Brief
To create a design for a north-facing area at the end of this Norwich garden that makes the most of existing features, including a collection of tree stumps, a mature Beech tree, and a large, grassy mound. The design may include:
A water feature such as a small waterfall or stream.
A working area (for compost bins, leaf store, and potting up).
A space to spark their grandchildren's imaginations, somewhere to explore and make discoveries.
Planting that would be beneficial for and attract wildlife (possibly in a woodland style).
A natural-looking space, not too formal, with soft edges and curves.
A tranquil seating area for two.
A way to incorporate the mound into the design.
The Design
The design includes a tapestry of wildlife-friendly planting that evokes the spirit of a native woodland. A herbaceous border of shade-loving plants in tones of pink and blue includes tall, bold spears of foxgloves, pincushion-like flowers of astrantias, ferns and hardy geraniums. A collection of sculptures are hidden here and there amongst the planting, as well as bird feeders, a log pile, and bug hotel.
Past the tree is a bench where you can sit and enjoy a view of the garden leading back to the house. Naturalised snowdrops grow through the grass around the tree's trunk in spring, and pink cyclamen in autumn. In summer, you can take in the sweet scent of the honeysuckle that will scramble across the back fence.
A pergola clothed in wisteria and clematis is a magical place to sit and relax in the evening, lit by festoon lights or lanterns, or on a hot summer's afternoon.
A wildlife pond is fed by small stream that starts at the top of the mound and flows down through the border. As the water reaches the pond it flows gently forwards until it reaches a pebble beach at the edge of the border. A bog garden frames the pond on the right of the stream, providing yet another wildlife habitat.
The planting on the mound is naturalistic, with the lush foliage of hostas, ferns and brunneras, and delicate woodland flowers in shades of blue, yellow and cream. Old stumps, logs and rocks nestle amongst the plants. These are both decorative and useful as stepping stones for access and maintenance.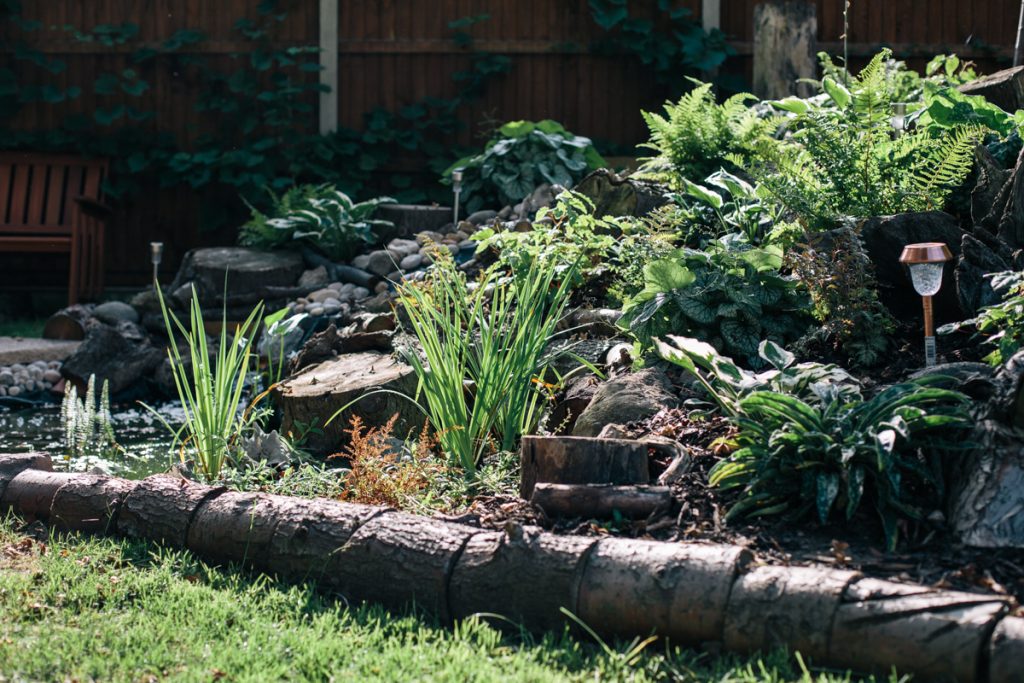 "Working with Rajul has been a delight at all stages. From the initial planning discussions, when she listened to our thoughts and ideas with sensitivity, to the ordering of plants and their placement, the relationship has been one of cooperation and mutual enjoyment. We recommend her work without reservation."

– Kingsley and Elaine